Ultrasonic Thickness Gage
Featured Product from Danatronics Corporation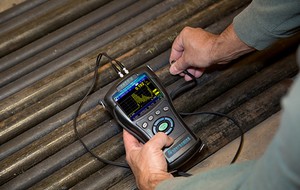 Danatronics offers our newest ultrasonic thickness gage line, the ECHO 9 series. ECHO 9 represents our most advanced thickness gage ever. ECHO 9 offers a 3.5" high resolution sunlight readable color display with live A-Scan, echo to echo to ignore coatings, B-Scan, datalogger with up to 32GB of SD card memory and interface to Microsoft excel. The ECHO 9 is available in 4 models including the ECHO 9, ECHO 9DL, ECHO 9W and ECHO 9DLW. The vibrate on alarm feature is the world's first and is great for loud environments.
Features:


Simultaneous Live Color A-Scan and Thickness Display
3.5" Sunlight readable color display
Field upgradeable software options include
Fast/Min and Fast/Max displays minimum, maximum or both simultaneously with actual thickness at 25 Hz
Compatible with a wide variety of Danatronics dual and single element transducers
Multiple languages
Datalogger interfaces with Microsoft Excel
Designed for IP67
Made in the USA
Typical Applications:


Boiler Tubes
Pressure Vessels
Storage Tanks
Ship Hulls
Pipes
About Danatronics
Danatronics Corporation is a new high technology company specializing in the field of Non-Destructive Testing (NDT). Their mission is to provide the highest level of product innovation and quality as well as an outstanding level of customer satisfaction.

Danatronics Corporation combines the experience of more than 40 years of NDT know-how in the areas of Ultrasonic Transducers, Thickness Gages, and Flaw Detectors as well as offerings in Hall-Effect Thickness Gages and Video Inspection Equipment. Their staff combines the talents of key personne lwho have invented, developed, marketed, and sold Ultrasonic NDT Electronics on a global basis for the last four decades.