Tetraglas® 3000 Cloth
Product Announcement from Darco Southern, Inc.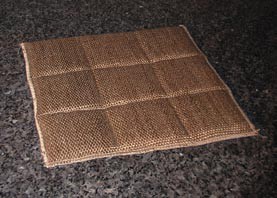 °Darco Southern, Inc - Tetraglas® 3000 is a high temperature fabric for service temperatures to 2000°F with short excursions to 3000°F. Cloth is available in a plain or satin weave and is silica cloth.
This product is manufactured with two layers of Tetraglas ® 3000-90 cloth, a layer of Tetraglas® 3000 batting, then quilted.
Currently used for the boiler industry but also has a wide variety of uses. Useful for maintenance personnel when repairing any piece of hot equipment for the purpose of kneeling without getting burned.
• Available in 18"x18", 24"x24", & 36"x36" sizes
*Other sizes available upon request.
---