125 Series DC Speed Control from Dart Controls
Featured Product from Dart Controls, Inc.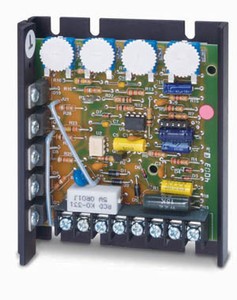 A compact, cost-efficient, reliable control for PM, Shunt Wound DC motors and Universal motors (RoHS Compliant model available). The 125 Series variable speed control incorporates up-to-date design and engineering into an amazingly small package. Installation and field adjustment are facilitated using a barrier type terminal strip and large, easily adjusted trimpots. Adjustable horsepower range - 120VAC, 1/50 through 1/8 and 1/4 through 1/2; 240VAC, 1/25 - 1/4 and 1/8 through 1. Standard features include an inhibit circuit for start-stop operation and 1% speed regulation over a 50:1 speed range. Dual voltage 120/240VAC or 24/36VAC models are available. Long life and quality are assured by 100% full load testing. The 125 Series is ideal for applications such as: office machinery, conveyors, office packaging equipment, printers, process equipment, centrifuges, and exercise equipment.