DC Drive For Master / Follower Applications
Featured Product from Dart Controls, Inc.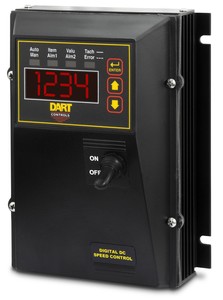 The MD Series set the industry standard for performance and value when introduced over twenty years ago. Exclusive to Dart Controls, the digital DC drive delivers precise speed regulation, reduced installation costs, and repeatable performance.
The MD PLUS is the second generation version of the Dart digital drive. It employs an advanced velocity-form PID algorithm for accurate and responsive control. Featuring an optional isolated 4-20mA input and output, the MD Plus is ideally suited for metering pump applications by efficiently combining all of the typical pump control loop functional requirements into a single compact package. The MD Plus also has two configurable Form C relay contacts to indicate a wide variety of conditions such as pump run verification, a "fault" condition exists, and many other events.
The MD Plus is available in both enclosed and panel-mount versions. The MD50E-420 version comes in a NEMA 4X enclosure complete with an auto/off/manual switch on the cover. The 1/8 DIN MD40P-420 and 1/4 DIN MD50P-420 panel-mount versions come complete with a NEMA 4X rated faceplate, gasket kit, stainless steel mounting hardware, and connections for an external auto/manual switch.
**************************************************
Speak directly to our Application Engineer about this and other products by calling (317) 733-2133 x325