Digital Speedpot Provides Repeatable Settings
Featured Product from Dart Controls, Inc.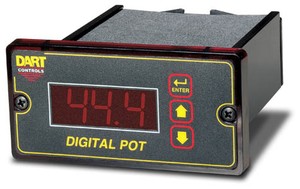 The DP4 microprocessor-based digital speed potentiometer from Dart Controls directly replaces the conventional 3-wire analog speedpot or motorized speedpot for most AC and DC drives. The desired set speed is entered into the large and easy to read 1/2 inch LED display through the convenient front-panel interface…display units are now programmable for virtually any unit of measure. This provides the user with meaningful, direct reading units by which to operate the system. The digital design also provides a measure of refinement of set speed setting and set speed repeatability not available in traditional analog potentiometers, even multi-turn.
The attractive panel mount unit is easy to install in industry standard 1/8 DIN cut-out dimensions. The DP4's electrically isolated output permits direct wiring to the drive's traditional potentiometer connections. The DP4 offers the same enhanced display options and capabilities featured in our other digital control products, as well as the Universal Power Supply and rugged screw type terminal strip.
Speak directly to our Application Engineer about this and other products by calling (317) 733-2133 x325