Line Voltage BLDC Drive From Dart
Product Announcement from Dart Controls, Inc.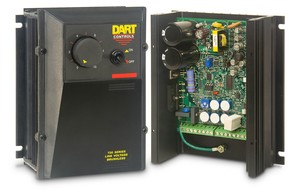 Dart Controls' 720 Series is a comprehensive offering of line voltage source power brushless DC (BLDC) variable speed motor controls. The 720 Series commutate power into standard 3-phase brushless DC motors. Utilizing 120 VAC for source power, it provides up to 3.1 amperes of continuous current. Available in both open and closed loop versions for BLDC motors with sensor spacings of 60 and 120 degrees.
Key Features:
> QUIET 17 kHz PWM SWITCHING FREQUENCY
> IGBT POWER DEVICES
> FORWARD/REVERSE DIRECTION CONTROL
> BRAKE CONTROL
> INHIBIT CONTROL
> RUN/STOP OUTPUT INDICATOR
> INTERNAL POWER ON LED
> INTERNAL FAULT LED
> VOLTAGE FOLLOWER INPUT (0-5 TO 0-20VDC), VIN
> 5KΩ SPEEDPOT with LEADS, KNOB and DIAL for REMOTE MOUNTING
> INTERNAL +5 VOLT DC SUPPLY for MOTOR HALL-EFFECT SENSORS
> NEMA 4/12 ENCLOSED MODELS
---