Compact Avionics Interface Computer (DABP)
Featured Product from Data Device Corporation (DDC)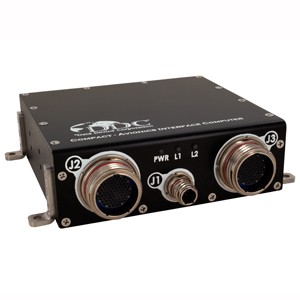 SWaP-Optimized, Scalable Compact Rugged Avionics Interface Computer
Bohemia, New York (March 2016) Data Device Corporation (DDC) introduces the new BU-67125W Compact Avionics Interface Computer (C-AIC), offering a completely customizable, off-the-shelf solution, that can be optimized for specific application requirements, and enable faster time to market. The C-AIC combines best-in-class performance from Intel's embedded computing architecture, with DDC's avionics data networking expertise and custom I/O capabilities, to deliver unmatched avionics connectivity computing in a small form factor, deployable, rugged enclosure.
Benefits:
Embedded Intel® Atom processor

Provides low power computing performance, programming, and flexibility
Enables the C-AIC to serve high density protocol bridging and application needs

Qualified for rugged air and ground environments
Expandable: mPCIe and I/O expansion modules to support a wide range of I/Os
Custom front panel connector configurations to support unique deployed I/O requirements
DDC's additional modes of operation:

Remote Access…allows easy access to 1553/429 connection via Ethernet network
Protocol Conversion…allows users to create embedded software that seamlessly transfers data between 1553, 429 and Ethernet interfaces
"The combination of DDC's avionics data networking experience, along with highly customizable I/O connectivity and best-in-class computing performance, makes DDC's new compact, rugged avionics computer the optimal solution for a wide range of I/O requirements and application needs" stated Mike Vega, DDC Product Line Manager - Data Bus Board Solutions.
Data Device Corporation (DDC) is a world leader in the design and manufacture of high-reliability Connectivity, Power and Control solutions (Data Networking Components to Processor Based Subsystems, Space Qualified SBCs and Radiation Hardened Components; Power Distribution, Control and Conversion; Motor Control and Motion Feedback) for aerospace, defense, space, and industrial applications. With awards for quality, delivery, and support, DDC has served these industries as a trusted resource for more than 50 years... providing proven solutions that are optimized for efficiency, reliability, and performance. Data Device Corporation brands include DDC, Beta Transformer Technology Corporation, National Hybrid Inc., North Hills Signal Processing Corp., Pascall Electronics Ltd., and XCEL Power Systems Ltd. DDC is headquartered in Bohemia, NY and has manufacturing operations in New York, California, Mexico, and the United Kingdom.