Easy-to-Use Motion Feedback Input PCIe Board (MFB)
Featured Product from Data Device Corporation (DDC)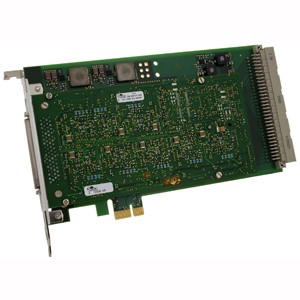 Flexible, Easy-to-Use Motion Feedback Input PCIe Board, for High Accuracy Synchro/Resolver Measurement

Bohemia, New York (May 2016) Data Device Corporation (DDC) introduces a new high accuracy Synchro/Resolver input PCIe board offering an easy and flexible solution for angular measurement testing in production screening and prototype evaluation. The new SB-3625XKX board features a user-friendly Windows® Graphical User Interface (GUI) and a comprehensive Synchro/Resolver LabVIEW® support package, to support a wide range of applications and test requirements. The board delivers high accuracy resolution, up to 1 Arc minute based on DDC's RD-19230 high-precision analog-to-digital converter technology, along with a high independent channel density. The SB-3625XKX Input PCIe Card is complimented by DDC's SB-3623XKX Output PCIe Card, which is currently in production, with an instrument grade accuracy of 30 arc seconds.
Benefits:
Convenient method for production and prototype testing of angle measurement systems
Turnkey GUI to operate all board functions
4 or 8 Synchro/Resolver input channels, each with independent reference input
Accuracy to 1 arc minute
Programmable resolution, bandwidth & two-speed
"This flexible, high-accuracy, motion feedback input board was designed for ease-of-use in mind, to simplify all stages of prototype development and production testing" stated Rolf Mahler, DDC Product Line Director, Motion Feedback & Industrial Solutions. "The introduction of the SB-3625XKX Input PCIe Card is the first of several new product announcements planned this year in the continued expansion of our Synchro/Resolver to Digital Converter product line."
Data Device Corporation (DDC) is a world leader in the design and manufacture of high-reliability Connectivity, Power and Control solutions (Data Networking; Power Distribution, Control and Conversion; Motor Control and Motion Feedback) for aerospace, defense, and industrial applications. With awards for quality, delivery, and support, DDC has served industry as a trusted resource for more than 50 years… providing proven solutions that are optimized for efficiency, reliability and performance. Data Device Corporation brands include DDC, Beta Transformer Technology Corporation, National Hybrid Inc., Pascall Electronics Ltd., and XCEL Power Systems Ltd. DDC is headquartered in Bohemia, NY and has manufacturing operations in New York, Mexico, and the United Kingdom. For more information, visit: www.ddc-web.com.