Fibre Channel XMC Network Access Controller (FC)
Featured Product from Data Device Corporation (DDC)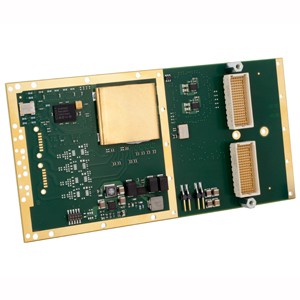 High-Speed, Rugged Fibre Channel XMC Network Access Controller
Bohemia, New York (May 2016) Data Device Corporation (DDC) introduces the next generation of rugged, improved throughput/latency performance FibreACCESS® Fibre Channel XMC Network Access Controllers, offering 1Gb/s or 2Gb/s operation via an x4 PCI Express (XMC) Initiator/Target host interface. The new FC-755XX boards, available with either 150 ohm differential or 75 coax (for MIL-STD-1760E) copper, or fiber optic physical layers, are based on DDC's leading Fibre Channel technology, designed to meet the multi-decade life cycle demands of aerospace and defense programs. Utilizing DDC's proven IP, integrated multi-chip modules, and advanced manufacturing capabilities, DDC can tailor the board for a wide range of Fibre Channel interfacing requirements.
Benefits:
Performance

High speed X4 PCI Express (XMC) interface
X4 PCI Express host interface provides 8 Gb/s full-duplex host bus access
TCP-UDP/IP, ASM, SCSI Initiator, Raw Mode, and FC-AE-1553 upper layer protocols
VxWorks®, Linux®, and Windows® software drivers
Capability to sustain near line rate data throughput
1Gb/s or 2 Gb/s operation
Class 2 and Class 3 service, including broadcast and multicast

Reliability

Available with a choice of VITA-42 or rugged VITA-61 XMC connectors
Extended temperature option (-40°C to +85°C)
Conduction or air-cooled versions

Support & Customization

DDC developed technology to support long life cycles
Customizable for specific applications
"DDC's latest generation of FibreACCESS® Fibre Channel Network Access Controllers, now available in an XMC form factor, provides high-speed, ruggedized COTS connectivity, while enabling flexible, application-specific customization", stated Mike Glass, DDC Fibre Channel Product Line Manager.
Data Device Corporation (DDC) is a world leader in the design and manufacture of high-reliability Connectivity, Power and Control solutions (Data Networking; Power Distribution, Control and Conversion; Motor Control and Motion Feedback) for aerospace, defense, and industrial applications. With awards for quality, delivery, and support, DDC has served industry as a trusted resource for more than 50 years… providing proven solutions that are optimized for efficiency, reliability and performance. Data Device Corporation brands include DDC, Beta Transformer Technology Corporation, National Hybrid Inc., Pascall Electronics Ltd., and XCEL Power Systems Ltd. DDC is headquartered in Bohemia, NY and has manufacturing operations in New York, Mexico, and the United Kingdom. For more information, visit: www.ddc-web.com