Serial Output Resolver-to-Digital Converter (SDC)
Featured Product from Data Device Corporation (DDC)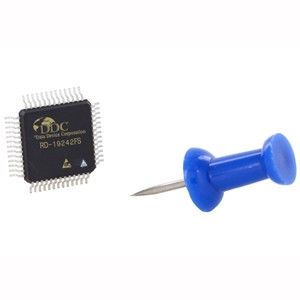 Save Development Time & Free up I/O Resources with DDC's Serial Output (SPI) Resolver-to-Digital Converter!
Bohemia, New York (April 2018) Data Device Corporation (DDC) introduces a new compact and reliable Resolver-to-Digital Converter offering a low cost, off-the-shelf solution for today's rugged, high reliability motion control applications. The RD-19242 converter is an extremely flexible motion control solution, offering user programmable resolution, bandwidth, and tracking rate, enabling it to readily interface with a wide range of Synchro, Resolver, Inductosyn, LVDT, RVDT, MR and Halls Sensor applications. The converter features an integrated reference oscillator that reduces cost and external component count, and a serial output (SPI) that utilizes less processor I/O, freeing up valuable I/O resources that can be used for other application and expansion requirements.
Benefits:
Save Development Time, Effort and Costs

Standard off-the-shelf solution enables faster time to market & reduces risk and effort required by in-house resources
Integrated reference oscillator reduces cost & external component count
Available RD-19242EX-3L0 development kit offers an easy way to evaluate DDC's RD-19242 resolver-to-digital converters, with little to no installation and configuration setup time required

Extreme Flexibility Enables this Single Component to Support a Wide Array of Applications

Programmable resolution, bandwidth and tracking rate
Use to interpolate Synchro, Resolver, Inductosyn, LVDT, RVDT, MR, and Hall sensors
Encoder emulation enables replacement of an encoder with a rugged resolver
-55°C to +125°C operating temperature range

Free Up Processor Resources

Serial output (SPI) utilizes less I/O from processor
"Featuring advanced programmability along with an integrated reference oscillator and serial output, the RD-19242 resolver-to-digital converter is a highly flexible and efficient, off-the-shelf motion control solution, offering system developers the ability to readily tailor it for their specific application requirements without incurring the costs, efforts and risks associated with custom designed solutions", stated Roger Tomassi, DDC's Product Line Manager.

Data Device Corporation (DDC) is a world leader in the design and manufacture of high-reliability Connectivity, Power and Control solutions (Data Networking Components to Processor Based Subsystems, Space Qualified SBCs and Radiation Hardened Components; Power Distribution, Control and Conversion; Motor Control and Motion Feedback) for aerospace, defense, space, and industrial applications. With awards for quality, delivery, and support, DDC has served these industries as a trusted resource for more than 50 years... providing proven solutions that are optimized for efficiency, reliability, and performance. Data Device Corporation brands include DDC, Beta Transformer Technology Corporation, National Hybrid Inc., North Hills Signal Processing Corp., Pascall Electronics Ltd., and XCEL Power Systems Ltd. DDC is headquartered in Bohemia, NY and has manufacturing operations in New York, California, Mexico, and the United Kingdom.