35 years Instrument Class Innovation
Featured Product from Dataforth Corporation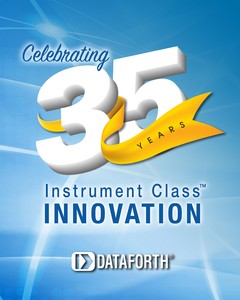 "I started Dataforth with the goal of designing, manufacturing, and marketing the best possible products for data acquisition and control, signal conditioning, and data communications" says Founder and President Lee Payne. "As our track record proves, we continue to do just that."
The first product offered by Dataforth was a Limited Distance Modem. This was followed by the SCM5B series of signal conditioners. "The 5B is still our top seller," says Georg Haubner, Manager of Sales and Marketing.
To celebrate Dataforth's longevity, an interactive timeline of the company's history will debut on https://www.dataforth.com in the beginning of May. Approximately 7 years of history will be added to the timeline each month from May through September.
"From the very beginning, our commitment has been to set the highest standards of product quality, performance, and customer service," says Payne.
Dataforth products and solutions are used worldwide, sold and supported by a network of over 130 US and international representatives and distributors. As a testament to the integrity and stability of this company, many original employees are still there.