Dataforth lead times are still under 3-weeks!
Featured Product from Dataforth Corporation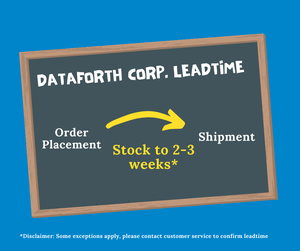 Dataforth lead times are still under 3 weeks. We usually ship from stock to 2-3 weeks.
Place your orders today!
Dataforth Corporation is a worldwide leader in the design and manufacture of Instrument Class industrial electronics – rugged, high-performance data acquisition and control systems, signal conditioning modules, and data communication products that play a vital role in ensuring the integrity of industrial automation, data acquisition, and quality assurance systems. Customers depend on the exceptional accuracy and reliability of the Company's products to protect their valuable measurement and control signals, computers, and peripherals from the dangerous and degrading effects of noise, transient power surges, internal ground loops and other hazards found in industrial environments.
Dataforth Corporation was established in 1984 as an entrepreneurial venture by the Burr-Brown Corporation, one of the most experienced and innovative international producers of analog integrated circuits and related products. Building on its position as marketplace leader, Dataforth continues to seek out the most cost-effective emerging technologies in design and manufacturing in order to provide the highest performance quality products at the lowest price. According to Lee Payne, co-founder and President, "It is our mission at Dataforth Corporation to design, manufacture, and market the best possible data acquisition and control, signal conditioning, and data communication products. Our goal is to continue setting new standards for product quality, performance, and customer service."