MAQ20 Modular Data Acquisition & Control System
Featured Product from Dataforth Corporation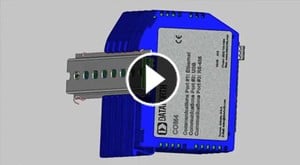 The MAQ20 is a high performance, highly flexible system that continues to add new modules, significantly increasing its capabilities and flexibility for a wide range of industrial applications.
MAQ20 modules include communications modules; analog input voltage, current, thermocouple, RTD and potentiometer, strain gage, and frequency modules; analog output voltage and current modules; discrete input/output modules, and the new high density voltage discrete input and output modules, discrete relay output module, and isolated process voltage and process current analog input modules.
Find details on those modules as well as updated data on all MAQ20 system modules in the 2017 MAQ20 Product Catalog
MAQ20 system advantages include:
Industry's most affordable price per channel
±0.035% accuracy
1500Vrms channel-to-bus isolation
Up to 240Vrms continuous field I/O protection
ANSI/IEEE C37.90.1 transient protection
Dedicated graphical control software packages
Advanced features including integral PID control, alarms counters, timers, and PWMs
7-34VDC input power
-40°C to +85°C industrial operating temperature
The MAQ20 system incorporates more than 30 years of design excellence and quality in the process control industry. It was developed for factory, process, and machine automation; military and aerospace, power and energy, oil and gas, and environmental monitoring applications, and also is ideal for use in many test and measurement applications.
Worldwide, Dataforth products provide rugged signal and data integrity and wide spectrum accuracy. All products are manufactured in the USA and have been RoHS Compliant since 2006. The Dataforth Quality Management System is ISO9001:2015 registered.
For additional information, call 800-444-7644 toll-free, email sales@dataforth.com, or visit our website at www.dataforth.com.