Extension Boards for CryptoAuthentication Tokens
Featured Product from Datakey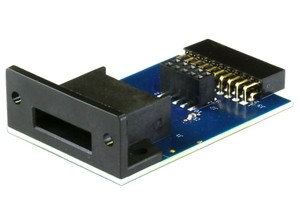 Extension Boards for CryptoAuthentication Tokens
Microchip offers a CryptoAuthentication starter kit to aid in the development of embedded applications using CryptoAuthentication ICs. The CryptoAuthentication SOIC XPRO Starter Kit (part number DM320109) may be purchased from Microchip Direct or from authorized Microchip distributors.
ATEK offers two extension boards that work with Microchip's CryptoAuthentication Starter Kit. The two boards plug into the extension ports of the SAMD21-XPRO development board that is included in the starter kit. One board is offered with a vertically oriented board-mount receptacle, where the other is horizontally oriented. Both boards come with a header connector for interfacing to panel-mount SlimLine™ receptacles.
A MARKET LEADER IN VIRTUALLY ANY MARKET.
From wireless medical devices to encrypted communications for the military,advanced fleet tracking systems to cashless vending machines, Datakey products are making life easier for OEMs and end users in virtually every market.
Built tough for countless applications.
Each of our memory products is built to survive extreme conditions and deliver over a wide range of applications.
Why Datakey.
THE POWER OF DATA. SECURED. When the going gets tough, the tough get Datakey. Our rugged, fully engineered products meet the security and data transport requirements for military, government, medical, industrial and commercial applications. For more than 40 years, leading OEMs have counted on Datakey for state-of-the-art memory keys, tokens, plugs and receptacles.