RUGGEDrive™ Industrial SD Memory Tokens
Featured Product from Datakey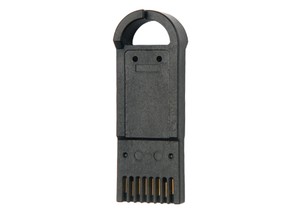 Industrial DFX RUGGEDrive™ memory tokens (DFX-I and DFX-IS models) provide SD card functionality, using either an SPI or SD interface and are available in capacities from 1 - 64 GB. They have several advantages over consumer SD cards, which make them ideally suited for embedded and industrial applications outside of the consumer market:
Ultra-Rugged Construction - Industrial DFX tokens use solid over-molded construction, making them impervious to liquids and virtually crush-proof.
Security Features - The unique form factor means that Industrial DFX tokens won't plug-in to standard ports found on a PC.
Industrial Temperature Operation - All Industrial DFX tokens are rated for operation across the full industrial temperature range of -40?C to 85?C.
Fixed/Controlled BOM - The SD controller IC, its firmware and the NAND flash will not change from lot-to-lot, ensuring consistent performance and reliability.