RUGGEDrive™ Industrial USB Memory Tokens
Featured Product from Datakey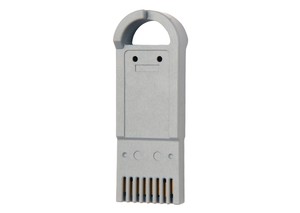 UFX RUGGEDrive™ memory tokens provide USB flash drive functionality, come with a USB 2.0 Hi-Speed interface and are available in capacities from 4 -64 GB. They have several advantages over consumer USB flash drives, which make them ideally suited for embedded applications outside of the consumer market:
Ultra-Rugged Construction - The UFX token uses solid over-molded construction, making it impervious to liquids and virtually crush-proof.
Security Features - The unique form factor of the token means that the UFX token won't plug-in to standard ports found on a PC. Further, each token contains a non-changeable, unique serial number that can be used to identify/authenticate the user. It can also be used to encrypt the onboard data. Finally, unlike many consumer USB flash drives, the UFX has a fixed USB Vendor ID and Product ID that can also be used for authentication. We can even issue you your own unique USB Product ID number.
High Cycle Life Contacts - Most USB connectors are rated for only 1,500 insertion/removal cycles. At just 10 cycles per day, that connector will only last for 5 months! The contacts on the UFX token are rated for at least 10,000 insertion/removal cycles. At the same rate, the UFX token will still be going strong after 33 months!