Rugged Credential for Embedded Applications
Featured Product from Datakey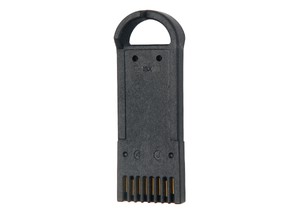 IIX Series Extended Length Memory Tokens
Datakey's IIX series of Extended Tokens provide security-enhanced data storage and transfer for end-user applications. Each IIX token contains a non-volatile, serial 2-wire interface EEPROM that can be read, erased, and written to via a receptacle (which is available in panel-mount and multiple board-mount forms) or the SlimLink™ programmers. The EEPROM in the IIX token has a unique factory-embedded serial number that cannot be changed by the user. The unique serial number can be used to prevent duplication of tokens by using the serial number as a unique encryption seed or by having the host system store a list of authorized serial numbers. A solid-molded, synthetic body protects the embedded memory from harsh environmental influences, so it retains data even when exposed to dirt, moisture, chemicals, X-rays, and up to 15 kV of electrostatic discharge.
Why Datakey.
THE POWER OF DATA. SECURED. When the going gets tough, the tough get Datakey. Our rugged, fully engineered products meet the security and data transport requirements for military, government, medical, industrial and commercial applications. For more than 40 years, leading OEMs have counted on Datakey for state-of-the-art memory keys, tokens, plugs and receptacles.