Safeguard Logged Data
Featured Product from Datakey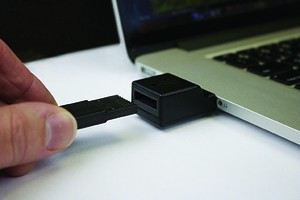 New Datakey Read-Only DFX PC Adapter Safeguards Logged Data
The adapter is the latest addition to the DFX RUGGEDrive Series of Secure Digital (SD) memory devices. It works to prevent accidental deletion or modification of recorded data without the need for a read/write switch.
"In some markets, like defense, there are negative impressions of USB flash drives and SD cards due to security and durability concerns," said Paul Plitzuweit, Senior Product Manager for the Datakey product line. "However, a removable memory device is often an ideal solution for many applications. The RUGGEDrive line addresses this challenge by providing removable memory devices with USB flash drive or SD card functionality that are solid over-molded into tamper-evident, non-standard form-factors."
The non-standard form-factor of the RUGGEDrive memory tokens limit the opportunities for the memory devices to be used in inappropriate ways. If a memory device doesn't plug in directly to a computer, tablet, smartphone or camera, it is much less likely that the data on that device will be accidentally deleted or modified. Of course, sometimes it is necessary to transfer data from the proprietary memory device to a computer. For these occasions, Datakey offers adapters that plug in to a USB port. The standard adapters allow read/write access, where the new adapter only allows read access.
The protection afforded by the proprietary form factor of these devices is only effective if access to the adapters is limited, so ATEK controls the availability of its Datakey products by only selling direct to qualified OEM customers domestically and through special authorized distributors internationally. This allows OEMs to control which memory tokens and adapters their end users have access to........
A MARKET LEADER IN VIRTUALLY ANY MARKET.
From wireless medical devices to encrypted communications for the military,advanced fleet tracking systems to cashless vending machines, Datakey products are making life easier for OEMs and end users in virtually every market.
Built tough for countless applications.
Each of our memory products is built to survive extreme conditions and deliver over a wide range of applications.
Why Datakey.
THE POWER OF DATA. SECURED. When the going gets tough, the tough get Datakey. Our rugged, fully engineered products meet the security and data transport requirements for military, government, medical, industrial and commercial applications. For more than 40 years, leading OEMs have counted on Datakey for state-of-the-art memory keys, tokens, plugs and receptacles.