Control Knobs
Featured Product from Davies Molding, LLC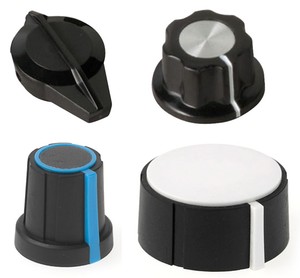 Control Knobs are available in Instrument, Pointer and Skirted and Two-Shot Instrument and Skirted.
Distinctive control knobs for special applications with a wide range of sizes and styles to suit your needs. Available in both phenolic and thermoplastic materials, and can be customized to your specification.
Over 25 different styles of instrument control knobs are available!
Our instrument control knobs that have a sophisticated, distinctive appearance combined with high quality function.
The 1100 series include a line or slot to indicate a setting.
Varieties available in both thermoplastic and phenolic materials.
Sizes ranging from 1/2" to 2-1/4" in diameter.
Female insert, plain molded hole and spring mounting instrument knob options are available.
Knobs can be decorated or customized to your specific need.