Round Fluted Clamping Knobs Series
Featured Product from Davies Molding, LLC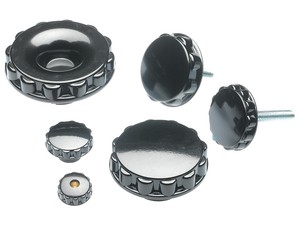 Davies Molding is pleased to introduce our series of soft touch knobs and handles. Our soft touch parts are molded with a soft thermoplastic overmolded "rubber" top with a tough thermoplastic body underneath. The soft feel of the knob provides a comfortable touch with a sure grip.
Clamping knobs are available in different materials, thermoplastic, and phenolic for a multiple of applications.
A variety of shapes and diameters with plain, tapped bosses or with studs are available with standard threads to fit the application.
Perfect for the industrial machinery, medical, general equipment and other industrial applications.
Knobs can be decorated or customized to your specific need.
Colors available upon request.