Davis-Standard's Extruder Capabilities
Product Announcement from Davis-Standard, LLC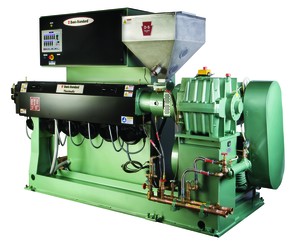 Davis-Standard, LLC has a full range of extruder capabilities including a groove feed extruder, a new high-speed extruder, a MAC extruder, a direct drive medical extruder and a Super Blue® extruder. The following is a summary of each.
Thermatic® GF Groove Feed Extruder
A 2-inch (50mm) 34:1 L/D groove feed extruder designed for bimodal PE-100 and other polyolefin materials. This extruder features a low melt temperature, high output design with a new feedscrew for even greater mixing and homogenization. In addition to the 34:1 L/D barrel assembly, this extruder has a 4:1 L/D intense cooled groove feed section. This extruder is running as part of the geothermal HDPE pipe extrusion system at the company's exhibit.
Thermatic® HS High-Speed Extruder
A 3-inch (75mm) 40:1 L/D high-speed extruder is showcasing a high volume feed section and electrically heated/air-cooled system. This extruder is targeted for use with PS and PP resins for sheet and in-line thermoforming. In these applications, a 75mm high-speed extruder is able to produce the equivalent throughput of a 150mm machine while still providing excellent melt temperature and pressure stability.
HPE-H Extruder
This adjustable extruder is being shown in a 1-inch (25mm) model with direct drive AC vector motor capabilities and an available Servo option. The compact HPE-H is designed for quick delivery and offers processors high torque capability and an extensive list of options. It is also being used to demonstrate the DS-eTPC touchscreen controller for extruder and line control.
MAC Extruder
A 3 ½-inch (90mm) 30:1 MAC extruder with a slimmer design is being shown. This version of Davis-Standard's high-performance, air-cooled extruder is engineered for nine-layer coextrusion film arrangements. The MAC is recognized worldwide for excellent rates, improved bubble stability, and excellent gauge uniformity and control.
Medical Extruder Direct Drive (MEDD)
This compact new extruder features a direct drive motor for more energy efficient operation. Advantages include linear movement, a replaceable feed section liner, and a Windows® 7 PLC control system. The MEDD also features interchangeable 1-inch (25mm) 24:1 L/D to ¾-inch (19mm) 24:1 L/D barrel assemblies for material versatility.
Super Blue® Extruder
This popular, cost-effective extruder is being shown in a 3 ½-inch (90mm) model. The Super Blue is known for a quick delivery and rugged design that is energy efficient and easy to maintain. Standard machines can be delivered as quickly as one to two weeks. Advantages include an increased torque capacity to handle high viscosity resins and custom options. The Super Blue is supported by a three-year warranty and several DSB® barrier screw designs. It is available in L/D's of 24:1 and 30:1, and in 2-inch (50mm), 2 ½-inch (63mm), 75mm, 3 ½-inch (90mm), 100mm and 4 ½-inch (114mm) sizes.
---