High Power Polarization Beamsplitter
Featured Product from Dayoptics, Inc.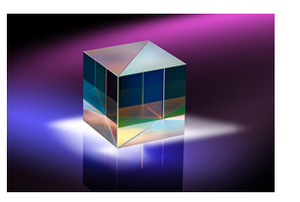 Polarizing Cube Beamsplitters split randomly polarized beams into two orhogonal, linearly polorized components. S Polarized light is reflected at 90 degrees while P polarized light is transmitted. Each beamsplitter consits of a pair of precision hight tolerance right angle prisms joined together with a dielectric coating on the hypotenuse of one of the prisms.
Dayoptics is dedicated to producing various High Power PBS. Compare to traditional PBS, it adopts special optical contacted technology which makes it has higher laser damage threshold.
Surface Quality:20/10 Scratch/Dig)
- Wavelength Range (Other Material & Wavelength Available)
- 1064nm+/-20nm (Material: BK7) 1550nm+/-25nm (Material: BK7)
- 532nm+/-20nm (Material: BK7) 355nm+/-7nm (Material: Fused Silica)
Design & Technical Support Services and Volume Production.