Clear UHMW polyethylene film
Featured Product from DeWAL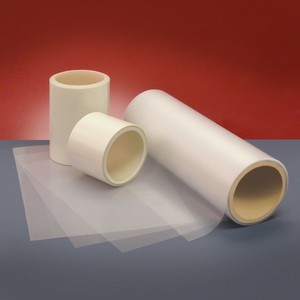 DW 423-5EZ is an addition to the DW 423 series, used by all American auto manufacturers and hundreds of general industry manufacturers around the world. DW 423 is a pressure-sensitive UHMW-PE tape with an aggressive permanent acrylic adhesive. New DW 423-5EZ has no release liner. It has an easy unwind and no liner to discard.

DeWAL UHMW tapes and films are used in a broad array of applications from auto squeak-and-rattle tape to chemical and hydraulic hose liners. Because UHMW has a low coefficient of friction and exhibits excellent physical, chemical, mechanical and abrasion resistance properties, it is often also used in sliding bearing applications, belting, static dissipation and friction-reduction layers.
For more information on DeWAL UHMW-PE tapes email to dewal@rogerscorporation.com or call (800) 366-8356.