PTFE-Adhesive Coated Tape for Machinery Rollers
Featured Product from DeWAL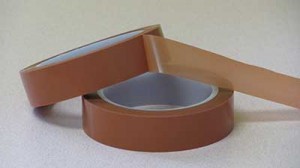 DeWAL is manufacturing a tensilized PTFE tape that drastically reduces friction and wear on high speed rolling machinery.
This pressure sensitive tape uses a PTFE film coated with a high temperature silicone adhesive, and combines it with a filled composition that enhances key performance characteristics. It has extremely high tensile strength, increased wear properties and high temperature resistance.
"This is unlike any other PTFE film on the market," said Christopher Brooks, DeWAL's Director of Sales and Marketing. "We developed it for close-tolerance aviation/aerospace maintenance and have been able to reduce its price so that it is cost-efficient for roller machinery smooth operation and preservation in many other markets."
It is now being used to wrap rollers that produce polyethylene coatings and laminations, rollers that calender paper, and rollers that revolve at very high speeds and high temperatures in classified industries. Temperature tolerance is up to 500°F (260°C).
This DeWAL tensilized PTFE film is available in two configurations reflecting different values in adhesion, dielectric strength, tensile strength and elongation. Both configurations, DW662 and DW 664, are manufactured at DeWAL's Rhode Island facility in widths from 0.25" to 22" (6.35mm to 508mm) in 36 yard (32.9m) lengths. DW 662 is blue; DW 664 is orange/brown.
All DW 662 and DW 664 are tested according to ASTM standards and meets RoHS criteria. DeWAL is ISO 9001:2015 certified.
The DeWAL Advantage
Since our beginning in 1974, DeWAL, now part of Rogers Corporation, has become an industry leader in the manufacture of high performance polymer films and pressure sensitive tapes. Our films are among the longest and widest splice free lengths in the industry.
DeWAL uses only the highest quality engineered resin blends. Consult your DeWAL Representative for more information.
Hugo DiClemente and Edward Walsh established DeWAL Industries in 1974 to process PTFE resin into film that was seen as the best-made product on the market. Both Hugo and Ed had worked together previously and already had over 20 years of experience under their belt. The original company, located in Hope, RI, employed 3 people, while today DeWAL has grown to over 150 employees in Narragansett, RI.
The business started processing high quality sintered, skived PTFE films and expanded to include skived UHMW-PE films. Over the 44 years since the beginning in 1974, DeWAL has stayed in the forefront of technology in the fluoropolymer products markets. We not only skive the highest quality PTFE and UHMW films, we also offer a wide array of Pressure Sensitive Tapes, extruded / unsintered PTFE films along with highly technical Expanded PTFE as well as Porous PTFE and UHMW products for a wide range of industries, including:
Over this time DeWAL has never lost focus on the products that the company started with and is considered an industry leader in thin film technology. DeWAL Industries is an ISO 9001:2008 Registered Company, focused on "High Quality Products" and "Innovative Solutions." Everyone in the DeWAL family of employees is committed to help our customers compete in the ever-growing competitive world market.