DeZURIK Butterfly Valves for Tough Applications
Featured Product from DeZURIK, Inc.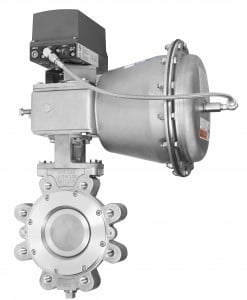 DEZURIK BUTTERFLY VALVES FOR A VARIETY OF APPLICATIONS
At DeZURIK, our team prides itself on designing and manufacturing a variety of high-quality butterfly valves with best-in-class features. We engineer our valves and actuators with efficiency and safety in mind and have done so for over 90 years. Our engineering capabilities and superior products are well-known throughout a variety of industries. All DeZURIK valves are tested for shell and seat leakage and come with a 2-year warranty. We are dedicated to delivering outstanding customer satisfaction. In addition to our standard butterfly valves, we also offer a wide variety of customized options. If your facility is ready for high-quality, durable and proven butterfly valves, it is time to reach out to DeZURIK.
High Performance Butterfly Valves for Demanding Applications
Chemical plants, hydrocarbon processing facilities, pulp & paper mills, and industrial water and wastewater treatment facilities trust our butterfly valves for superior performance. DeZURIK BHP High Performance Butterfly Valves, in ASME Class 150 and 300, provide exceptional performance while reducing the total cost of ownership. DeZURIK High Performance Butterfly Valves have been successfully applied in extreme services, including high-temperature services, throttling steam control, high-cycle industrial gas, and more. High Performance Butterfly Valves are available in sizes up to 60 inches and temperatures to 700 degrees Fahrenheit. DeZURIK BHP High Performance Butterfly Valves are also ideally suited for critical applications in the water industry, where high pressures, high velocity flows and stainless steel construction are required. When specified, DeZURIK BHP Valves are certified to meet the NSF/ANSI-61, 372 standard Drinking Water Systems Components – Lead Content which provides recognized safety in municipal water service.
AWWA Butterfly Valves for Long-Lasting Operations
DeZURIK BAW AWWA Butterfly Valves deliver results and meet stringent American Water Works Association C504 and C516 standards. AWWA Butterfly Valves can be applied in services demanding high-quality and thoroughly tested valves which offer many years of trouble-free service. DeZURIK BAW Butterfly Valves come in sizes ranging from 3 inches to 144 inches, with temperature ranges to 290 degrees Fahrenheit and several pressure ratings. Featuring an offset disc design, we designed our AWWA butterfly valves with corrosion-resistant shafts, stainless steel disc edges, and self-compensating shaft seals. The larger valves also have adjustable and replaceable seats and non-hollow disc structures.
On-Center Resilient Seated Butterfly Valves Uninterrupted Seat Resilient Seated Butterfly Valves
In thousands of installations worldwide, DeZURIK BOS-US Uninterrupted Seat Resilient Seated Butterfly Valves have a proven record of long-term reliability and unmatched economy. These butterfly valves are ideally suited for a wide variety of liquids and gases, including water, air, petroleum, and noncorrosive chemicals. BOS-US Valves are extensively used in hot-process applications, in mining operations, in paper mills, and in environments requiring up to 28"-Hg (710mm-Hg) of vacuum. They provide bubble-tight, bi-directional shutoff to the full rating of the valve. They can be used in dead-end service without requiring downstream flanges. BOS-US Resilient Seated Butterfly Valves are an excellent choice for continuous modulating control or extended service applications, such as high cycle and higher pressures. Available is sizes 2 inches to 42 inches, BOS-US resilient seated butterfly valves can be used in services up to 250 degrees Fahrenheit.
DeZURIK BOS-CL On-Center Resilient Seated Butterfly Valves are used for a wide variety of liquids and gases in general service applications. These butterfly valves provide bi-directional shutoff to the full rating of the valve and can be used on dead end service with downstream flange attached. They feature superior bonded seats, heavy-duty bearings, multiple separate shaft seals, and a blow-out proof shaft. The On-Center Resilient Seated Butterfly Valve can handle pressures up to 175 psi (1210 kPa) in 2-12" sizes and to 150 psi (1030 kPa) in 14-48" sizes.
Tail Gas High Performance Butterfly Valves
DeZURIK BTG Tail Gas High Performance Butterfly Valves are specially designed to meet the rigorous requirements of services where polymerization or solidification of media can prevent valve operation. In addition to steam jacketing the body, Tail Gas Butterfly Valves also have internal steam passage ports located near the upper and lower body bearings to prevent media from solidifying. BTG Tail Gas Butterfly Valves are used for tail gas service in refinery sulfur recovery units, polymer processing or adhesive manufacturing.
Contact DeZURIK Today to Get Started
Click the images below to find additional information about any of these high quality DeZURIK Butterfly Valves. Use the Find A Rep, Get A Quote or Contact Us links to request more information. We look forward to helping you select a valve for your application!