Machining - Dedicated Machining Cells
Service Detail from Deco Products Company LLLP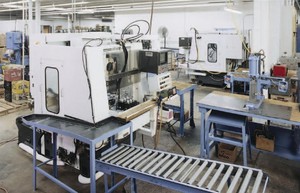 The Deco objective is simple: supply the customer a finished product, ready to use, with no further operations necessary.
We have a broad range of options when it comes to machining.
For lower volume work, we have a complete range of traditional machining centers with turn tables and automatic unloading.
For more complex parts, our CNC work centers produce high accuracy with great flexibility.
But a key cost advantage for Deco is the dedicated machining cells. By creating a cast, trim and machine cell right at the die cast machine, we are able to produce finished parts with extremely quick lead times at very competitive rates. Nearly any combination of tapping, machining, reaming or grooving can be done through these automated machining centers saving labor, time and cost. The result is a lower piece price for you.
– – – – – – – – – – – – – – – – – – – – – – – – – – – – – – – – – – – – – – – – – – – – – – – – – – – – – – – – – – –
Let our highly experienced team of engineers give you guidance in selecting your alloy choice. Contact us at:
Email: jraptes@decoprod.com
Toll: (800) 327-9751
Phone: (563) 382-4264
Deco Products Company LLLP
506 Sanford Street
Decorah, IA 52101
---