Precision Casting
Service Detail from Deco Products Company LLLP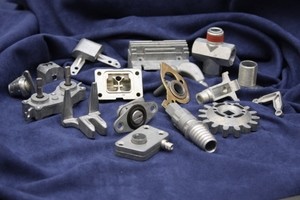 The Deco Standard: Deco is the leading producer of zinc die castings in the Midwest delivering our casting globally. Why? Because the company specializes in zinc alloys - Zamak 2, 3, 5, 7 and ZA 8. Deco cast between 55,000 and 60,000 pounds of certified alloy daily."

The company has positioned itself in the unique role of a full-service zinc die cast supplier. It is Deco's continuing objective to supply machined, powder coated, plated and assembled zinc die castings ready for the customer's use. This, and our dedication to continuous improvement, has earned the high praise of many nationally and internationally known companies.

Deco engineers are available anytime though telephone conferences. They will be glad to answer your questions concerning die casting applications, specific casting designs, or alloy selection. Detailed technical literature is also available on request.
– – – – – – – – – – – – – – – – – – – – – – – – – – – – – – – – – – – – – – – –
Please contact us at:
Email: jraptes@decoprod.com
Toll: (800) 327-9751
Phone: (563) 382-4264
Deco Products Company LLLP
506 Sanford Street
Decorah, IA 52101
---