For Emergency & Parking Braking Applications.
Product Announcement from Dellner Brakes AB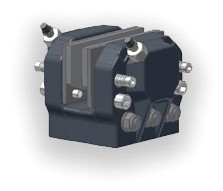 Hydraulic pressure applied, spring released
Dellner Brakes model SKD disc brakes are direct acting, hydraulic or air pressure applied, spring released units. The braking force achieved is directly proportional to the applied pressure.

The brakes consist of two symmetrical halves that accommodate a standard disc thickness of 12 mm. For use with thicker brake discs, the brakes can be supplied with spacers.

Each brake half has two cylindrical guide pins that transmit the tangential braking force from the brake pad to the brake housing and mounting stand. As a result, the brake pistons are not subject to any radial forces which contributes to longer brake life.

Two springs on each brake half retract the brake pads from the disc when pressure is released. Brake pad wear is automatically compensated for with increased piston stroke.
Disc Brake SKD 35
Braking force up to 8000 N
Disc brake SKD 50
Braking force up to 16200 N
Disc brake SKD 65
Braking force up to 27300 N
Disc brake SKD 80
Braking force up to 41400 N
Disc brake SKD 100
Braking force up to 129200 N
Disc brake SKD 100
Braking force up to 129200 N
Disc brake SKD 4x100
Braking force up to 258800 N
Disc brake SKD 4x125
Braking force up to 404200 N
Flexibility, service and top quality
Dellner Brakes AB is a Swedish company that develops, manufactures, markets and maintains brake solutions for industrial and marine applications. The company was founded in 1947 by Master of Science Jan Dellner. Since then, we have been a part of the Dellner Group of companies that now has more than 700 employees and production or service offices in every part of the world.
Brake systems for different industries on land and at sea
During the last few years Dellner Brakes has expanded strongly. Our brake systems are used for example in large ships, within the offshore industry, the mining industry, the paper industry, in oil and energy production, for cranes, winches and a number of different industrial vehicles. Most of our customers are located in Scandinavia, the USA, Europe, Asia and in Australia. Within marine brake applications, Dellner Brakes is a world leader. Our products are mounted in large military ships, oil tankers, freight ships, ferries, luxury yachts, luxury liners such as Queen Mary 2, and sailing ships such as the Gothenburg, a replica of an original ship launched in 1738.
Quality certified manufacturing
Dellner Brakes has high technical competence and our staff work daily with mechanical, electric and hydraulic construction, assembly and testing. Our organization is small and flexible, with high accessibility and fast decision-making. Dellner Brakes AB is certified according to ISO 9001:2008 and we are very careful with documenting our systems, our progress and our unique solutions. We have repeatedly succeeded, with very good results, in the further development of brake solutions for one special industry, with the help of experience amassed from another. Customized turn-key solutions are our specialty. Module-built brake systems represent the most part of our sales. Using different combinations of our own standard products, we can offer price-valued, perfectly customized solutions to a great many areas of use. Feel free to ask how we can offer you secure cost-efficient, one-stop solutions within brake systems.
World-leading products developed together with our customers
Producing customized products in close collaboration with our customers is part of our day-to-day work. Requirements from a world-leading, renowned propeller manufacturer lead to our unique STL™-system (Stopping Turning Locking). Several of our locking modules are based on products we have developed for a large multi-national motor manufacturer. In the year 2010, we introduced our new EFP-series with electrical emergency brakes - developed in collaboration with a leading Swedish offshore-company. Dellner Brakes has for many decades manufactured emergency stop brakes, hold and parking brakes - so reliability is one of our key concepts. All our brake solutions are distinguished by a robust, reliable design.
We love brake systems
Dellner Brakes' ambition is to always offer the market's best brake solutions. Our products do not always therefore have the lowest initial price, but on the whole, a brake solution from us will result in a superior overall economy. As a Dellner Brakes customer you can count on reliable products of the best quality and a partner with great, personal commitment and a keen interest in all kinds of brake solutions.
At Dellner's you become a VIP-customer
Dellner Brakes serves everyone from small to very large customers and all of them have top priority with us. Flexibility is a watchword and a "normal series" can vary from 1-piece manufacturing to thousands of units. Typical Dellner Brakes customers include the individual farmer who needs a new brake for his windmill, as well as the leading multi-national manufacturer of for instance mining equipment, propulsion (axle lines/gear boxes) or building cranes. In addition to development, manufacturing and sales, Dellner Brakes also offers professional field service on site.
Network of Swedish contractors close to our factory
In order to provide large delivery capacity and as a flexible alternative to refining individual components in-house, we also have a number of skilful and carefully selected contractors. Approximately 90 % of these are within a few hours car travel from our factory in Falun - a proximity that helps us guarantee you great flexibility, high quality and delivery to the right place at the right time.
Our customers stay with us
a long time
Quality combined with perceptiveness and a genuine commitment has resulted in our collaborating with many of our customers for more than 20 years, some for as long as 40 years. Our staff enjoys their workplace, which is shown by Dellner Brake's low staff turnover.
We look forward hearing from you
Are you not currently collaborating with Dellner Brakes? Let us have a discussion about those brake solutions we can offer your company.
Our vision:
"Dellner Brakes shall with great human commitment and high flexibility, be the market's natural first choice in STL-systems"
Energy
In the energy business, our products are typically used in oil platforms, drilling equipment, turbines in water, wave and wind power stations.
Mining
We also deliver brake systems to different kinds of mining equipment; from for example conveyor belts for gravel - to large mining machines that crush blocks of stone to gravel by tumbling.
Crane & Winch
The Dellner Brakes SKP-series are widely used in for instance cranes and winches. For years we have delivered braking systems for various industrial products with large lifting power.
Offshore
Companies in the offshore industry also choose Dellner Brakes products. In 2010 we introduced our new EFP-series with electrical emergency brakes - developed in collaboration with a Swedish offshore-company.
Propulsion
Our brake solutions can be found in many ships of various kinds - all over the world; including top modern aircraft carriers, commercial cargo ships, large sailing ships, as well as in some of the world's largest luxury yachts.
Pulp & paper
In the pulp & paper sector Dellner Brakes can be found for example in wood chipping machines and different machines for paper and packaging manufacturing.
Others
Dellner Brakes can also deliver brakes for special vehicles, special machines, test rigs etc.
---