From Aircraft Carriers to Luxury Yachts!
Product Announcement from Dellner Brakes AB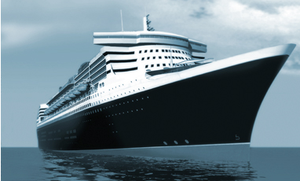 Dellner Brakes AB is a Swedish company that develops, manufactures, markets and maintains brake solutions for industrial and marine applications. The company was founded in 1947 by Master of Science Jan Dellner. Since then, we have been a part of the Dellner Group of companies that now has more than 700 employees and production or service offices in every part of the world.
Dellner Brakes STL-System
The STL-system offers one or several of three functions, all contained in one customer interface.
THE STL-SYSTEM OFFERS YOU ONE OR SEVERAL OF THREE FUNCTIONS
Stopping: Dellner Brakes' hydraulic or electric disc brake calipers effectively handle the stopping operation.
Turning: Mechanical linkages with hydraulic cylinders or electric motors positions the disc brakes. Together with an intelligent control system we turn or index the shaft - without the need for other turning devices.

Locking: The locking Device LM has a specially designed tapered pawl that is engaged into a machined slot on the outer peripheral of the brake disc. This mechanically locks the shaft in place. The LM-device can be operated manually, hydraulically or electrically.

The STL-modular system is indeed a modular system so you can choose the function(s) needed. All from single S, T or L functions, combined dual functions in terms of SL, ST or TL to a complete STL system can be selected.
Pressure applied, disc brake calipers for stopping and/or holding applications, alternatively spring applied, hydraulic pressure released disc brakes for emergency and parking braking applications.
Brake discs and hubs.
Standard or customised mounting brackets.
Various pressure supply options.
The Dellner Brakes locking devices (LM) have a specially designed tapered pawl that is engaged into a machined slot on the outer peripheral of a brake disc or a shaft flange. The LM devices are equipped with proximity switches for ON/OFF detection.
The LM devices are fail safe and can be used to mechanically lock a shaft which allows for safe maintenance procedures to be conducted on or around entire shaft line arrangement.
Examples of applications where Locking Devices (LM) can be used:
Propulsion Shaft lines
Grinding, Rod & Ball Mills etc.
Conveyors
Wind Mills
Dredgers
Advantages
The Dellner Brakes locking devices (LM-series) are compact, tested and delivered as one unit with one mounting interface.
If only a holding function of the shaftline is required, a locking device will be more cost effective and compact when compared to a holding brake solution.
The Dellner LM-series will achieve a higher locking torque compared to other holding brake solutions, as these will involve some friction co-efficient depending on which material is used for holding.
HYDRAULIC POWER PACK:

The Dellner Hydraulic Power Pack series DH 2000 are available in four different models, each has several different options. The main functions of the different models are as follows:

DH 2100: "On/Off" unit with an optional accumulator.

DH 2200: Unit with "Separate function" available as an option to make it possible to pressurise two braking systems individually and independently. Other options are accumulator, hand pump and pressure switches.

DH 2300: Unit with proportional valves in order to achieve a controlled braking operation by programming desired braking curve, controlled by an optional PLC in an electrical terminal box. Other options are accumulator and hand pump.

DH 2400: Unit with "Double control valves" for critical applications such as over- head cranes, etc. Other options are accumulator, hand pump, pressure switches and additional filter unit.

All four models can be delivered with optional enclosed hydraulic cabinets and electrical terminal boxes.

The electrical terminal boxes can be delivered with optional quick connectors and/or fireproof cables.
COMPACTUS:

Compactus is a pneumatically operated hydraulic pump system that multiples pneumatic line pressure into hydraulic pressure that is sufficient to operate pressure applied disc brakes at rated capacity. The intensification ratio is 1:44.

Compactus is supplied in an enclosed cabinet, that contains the pneumatically operated hydraulic pump with valves, pneumatic pressure regulator with filter unit and a shut-off valve. Optional control valve(s) is also available that makes it possible to control different brakes individually.
Dellner manufactures standard versions of Brake discs and Hubs as well as
Customized (non-standard) discs upon request.
Energy
In the energy business, our products are typically used in oil platforms, drilling equipment, turbines in water, wave and wind power stations.
Mining
We also deliver brake systems to different kinds of mining equipment; from for example conveyor belts for gravel - to large mining machines that crush blocks of stone to gravel by tumbling.
Crane & Winch
The Dellner Brakes SKP-series are widely used in for instance cranes and winches. For years we have delivered braking systems for various industrial products with large lifting power.
Offshore
Companies in the offshore industry also choose Dellner Brakes products. In 2010 we introduced our new EFP-series with electrical emergency brakes - developed in collaboration with a Swedish offshore-company.
Propulsion
Our brake solutions can be found in many ships of various kinds - all over the world; including top modern aircraft carriers, commercial cargo ships, large sailing ships, as well as in some of the world's largest luxury yachts.
Pulp & paper
In the pulp & paper sector Dellner Brakes can be found for example in wood chipping machines and different machines for paper and packaging manufacturing.
Others
Dellner Brakes can also deliver brakes for special vehicles, special machines, test rigs etc.
---