Bridge Building Components
Service Detail from Delmar Company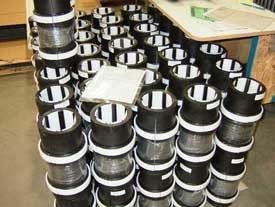 Delmar Company is involved in the highly complex engineering process of bridge building. We sell industrial extruded high-density polyethylene piping in various ID's and OD's. This process is extremely customized with wall thickness and length being versatile towards various bridge building projects.
Delmar works with a range of distributors and manufacturers to collaborate on bridge building projects throughout the country. We provide a variety of plastic fabrication and machining services, including:
On-site or off-site construction alongside project design
Customized engineering for industrial polyethylene piping
Couplings, gaskets and other custom components
On-site repair or assembly
Standard or metric sizes available in multiple resins
High quality plastic fabrication and machining
On-site portable plastic welding
Delmar Company manufactures bridge anchors, wire feeds or wire spacers to avoid destroying underground cabling during bridge construction. We also create highly customized, intricate couplings, gaskets, and o-rings from a wide range of materials. Products can be made with tolerances as tight as .005".
For more information regarding Delmar Company's involvement with bridge building and industrial piping, contact us. We can show you examples of projects we've been involved with, including the rebuilding of the I-35 Bridge in Minneapolis, Minnesota.
---