Custom FDA Approved Products
Service Detail from Delmar Company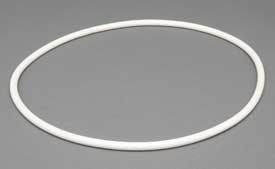 Delmar Company is dedicated to supplying custom FDA approved products. When the standard commodities don't meet your requirements we have a wide variety of FDA, 3A and USP Class V1 approved sealing products to meet your needs. We can supply custom gaskets cut from sheet materials or vulcanized silicone O'rings in any size. Some of our FDA approved products include:
Sanitary Gaskets
Sheet Gasketing
Viton, EPDM, Silicone & Teflon
USP Class V1 O'rings and gaskets are available for the pharmaceutical industry along with 3A-FDA products for the dairy, and food & beverage handling and manufacturing industries. PTFE joint sealants are a gasket on a roll. With its adhesive backing that makes installation quick and simple, this product can be used for many applications throughout the plant.
Sanitary clamp style gaskets are available in many styles and compounds. These gaskets and seals are used in sanitary piping systems for the food & beverage handling industries. Other styles of sanitary gaskets are available like bevel seat gaskets, screen gaskets, and other custom molded parts.
They are made with high quality materials which increases their life span. We meet 3-A Sanitary Standards, put forth to guarantee hygienic equipment is used for manufacturing or material handling within the food, beverage, and pharmaceutical industries. Most standard compounds are available in sheet form. Delmar can supply custom cut gaskets using in-house steel rule die cutting or a water jet cutting if needed.
We design the parts you need when off-the-shelf products don't work. Our fluid sealing products division was introduced to the company 7 years ago, headed by a technician with over 20 years of experience. For more information regarding our FDA approved products, contact us!
---