Fiberglass Twisted Rope
Service Detail from Delmar Company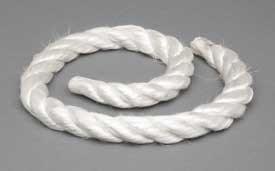 Delmar Company is a distributor of high temperature gasket & textile products utilized in many different industries from chemical and power plants to foundries. From fiberglass and ceramics to flexible graphite, these materials are available in ropes, tapes, sheets and cut gaskets. These products include:
Spiral Wound Gaskets
Braided and Twisted Fiberglass or Ceramic Ropes
Woven Tapes
Graphite packaging for pumps and valves
Viton O-Rings
Welding protection
Paper and Blankets
Delmar Company distributes ceramic and fiberglass products. Products using these materials will not burn or melt. They are utilized on a wide range of heat sources including wood burning stoves, gas fireplaces, boilers and high temperature piping systems.
Viton O-Rings are a high temperature withstanding rubber used in applications across a number of industries. This high end product is used in faucets, piping, and chemical tubing. It handles up to 450° and is resistant to many forms of chemical corrosion.
Ceramic Rope is a braided rope or tape for high temperature insulation. It's is available as a gasket or in sheet form as well. Fiberglass rope is utilized for many of the same applications as a ceramic rope yet is less expensive. It withstands heat up to 1000° whereas ceramic withstands temperatures up to 2300°.
Delmar Company is a CNC machining and custom fabrication company, specializing in a wide range of high temperature textile products
---