Plastic Welding: Secondary Containment Tank Repair
Service Detail from Delmar Company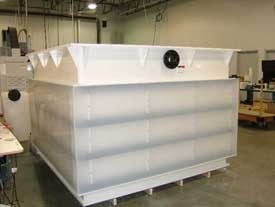 Delmar Company provides hot air plastic welding in-house and portable plastic welding for on-site repair within 500 miles of our Lakeville, Minnesota location. We complete plastic welding services at competitive pricing on plastic ductwork, secondary containment tanks and a large variety of other products. Some of the most common plastic welding services we complete include:
Plating Tanks
Clean Room Equipment
Wet Benches
Medical Processing Platforms
Semiconductor Cabinetry
Emergency On-Site Repairs
Our emergency on-site repair services help with numerous customer problems such as replacing broken tank fittings, repairing leaking tanks and the backwelding of leaking pipe joints.
Secondary Containment Tank Repair
Secondary containment tanks are often required by OSHA for numerous chemical applications and require regular maintenance. We utilize our portable plastic welding services to always keep you up and running. You drain the tank and shut down the system, we repair the problem. Normal plant processing can begin again in as little as an hour; labor time is determinant on the severity of the problem.
Plastic Ductwork Repair
When leaks happen in your plastic ductwork, we'll visit you on-site to fix the problem. Our portable plastic welding is guaranteed with high-quality plastic materials that have durability and longevity. Your plastic ductwork will be as good as new again.
Plastic Welding Materials:
PVC
CPVC
ABS
Polypropylene
Polyethylene
PVDF Industries Serviced:
Automotive
Chemical Handling
Sanitation
Refineries
Utility Companies
Package Machinery
HVAC
Ethanol Industries
Power Generation
Food Processing
Process Piping For more information regarding our hot air and portable plastic welding services, contact us. We can help you with all your plastic fabrication and CNC plastic machining needs. Request a quote for our welding services to get started with your project

---