Delphi USB Consumer Port
Product Announcement from Delphi Automotive LLP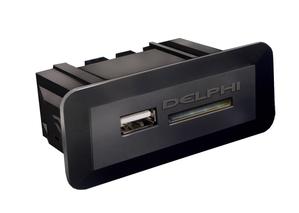 To meet growing consumer demand for ever-increasing data exchange within their automobiles, Delphi Corp. offers a Universal Serial Bus (USB) consumer port that serves as an interface between the vehicle's electrical system and external consumer equipment.
The Delphi USB consumer port enables passengers to download MP3 music files from pen-drives and listen to them through the vehicle's audio system. Multiple ports can accommodate audio/video, telematics and global positioning exchange.
Installation is simple and requires no special tools. Assemblers simply plug the rear lever lock connector into place and click the USB port into the corresponding slot in the cockpit.
The front cover is stylized per customer specifications and is adjoined to a USB connector a PCB with LEDs to light the USB symbols on the front cover and a header connector that interfaces to a standard 0.64 MTS automotive harness connector.
The USB interface is specially designed of stainless steel, which provides for a strong, highly reliable product suitable for repeated mating/unmating cycles. The board-mounted USB connectors are the industry standard I/O interface used to connect peripheral devices to computers and the metal shields help protect contacts from physical and electro static discharge damage.
Damaged USB consumer ports are easily replaced by disengaging the rear connector. There is no need to rework the harness, which has a positive impact on warranty costs.
Current design of the USB consumer port is optimized for USB 1.1 data protocol, is adaptable to USB 2.0 or 1394 (Firewire) connection and is USCAR-30 compliant.
For more information about Delphi Corp. (OTC: DPHIQ), visit www.delphi.com
---