Notch Filter
Service Detail from Deposition Sciences, Inc.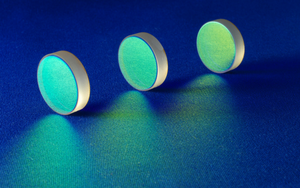 Notch filters block a range of wavelengths while transmitting both shorter and longer wavelengths outside of the blocked region. Thus, they provide the exact opposite functionality of a bandpass filter. One of the most common uses of DSI notch filters is in thermal infrared imaging systems where they are used to block the atmospheric CO2 absorption band (at about 4 µm). Otherwise, atmospheric absorption of this wavelength creates a highly distance-dependent variation in the measured infrared signal which can lead to measurement error. Another major application for DSI notch filters is in eyewear to block laser emissions for military, medical and industrial applications.
DSI has extensive experience in the design and manufacture of notch filters for use at wavelengths ranging from the ultraviolet through the long-wave infrared. These include broad and narrow notch designs. All DSI notch filters are characterized by high in-band blocking, excellent out of band transmission and immunity to shifts due to changing humidity.
DSI Notch Filter Advantages:
High in-band rejection
Sharp cut-on/cut-off slopes
Excellent out-of-band transmission
No wet/dry wavelength shift
DSI Notch Filter Applications:
Military defensive goggles
Military targeting and tracking
Laser eye protection