Sunshade Thermal Control Material
Service Detail from Deposition Sciences, Inc.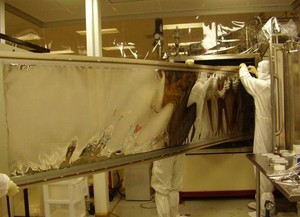 DSI has more than twenty years of production history for Sunshade, a thermal control material consisting of a multi-layer dielectric thin-fi lm stack deposited onto Kapton™ fi lm. Our customers have a similar record of successful use in LEO, MEO, and GEO applications.
DSI Sunshade was originally developed in collaboration with satellite engineers looking for improved thermal control using RF-transmissive materials with added ESD properties. Sunshade's continuous coating is distinct from patterned grid fi lms in that no metallic materials are used in its construction.
Sunshade supports modern high-data-rate communications systems in L, S, C, X, Ku, K, Ka, and V bands. Applications include : Satellite radomes, antenna covers, and apertures for thermal control and ESD control.
CUSTOMIZATION: DSI's standard Sunshade is tuned for AM0. Spectral properties can be customized in the VIS, NIR and MWIR ranges. DSI closely collaborates with customers to meet special and proprietary requirements.