Automatic Pistol Screw Feeder Systems
Service Detail from Design Tool, Inc.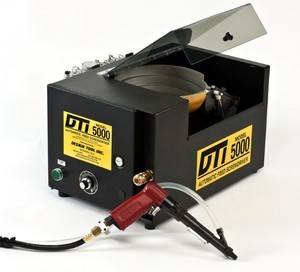 DTI 5000 Automatic Screw Feeding & Screwdriving Pistol Grip Screwdrivers
The DTI 5000 is your fast working, hard driving, highly flexible, cost effective, multi-application, partner in productivity. Click here for some videos.
DTI 5000 automatic screw feeding and pistol grip screwdriver systems are available in several different configurations, including standard, rigid, and retracting barrel designs. These machines are custom designed for vertical and horizontal applications with the nose piece jaws fitting the customer's part. The pistol screwdriver assemblies can be designed for a wide range of applications and fastener types including screws, bolts, nuts, pins, or nails. The standard screw feeder systems cycle quickly delivering screws in less than one second in many applications. The rigid units maintain contact between the bit and the fastener in order to locate the screw in predrilled or misaligned holes. The retracting barrel feature is offered in both rigid and non-rigid designs. This system retracts the barrel fully when the driver starts, so that the driver components do not contact the work surface when the screw is driven.
The DTI 5000 pistol systems are offered in both direct drive and auto shut-off clutch tools that are small and lightweight. The direct drive systems are very compact, allowing these tools to be used in applications that are difficult to access. The fastener torque can be regulated using air pressure to prevent over tightening. The auto shut-off clutch pistol systems reduce operator fatigue in higher torque applications. These systems are also available in a drive-to-depth configuration, where the fastener is driven to a specific depth rather than a set torque value. Many applications benefit from this feature, as the depth can be controlled rather than relying on the operator to stop the driver at the correct fastener depth.
___
Application:
Wood
Metal
Plastic
Electronics
Automotive
- - - - - - - - - - - - - - - - - - - - - - - - - - - - - - - - - - - - - - - - - - - - - - - - - - - - - - - - - - -
Fasteners:
Any type threaded fastener provided head diameter is less than overall length.
- - - - - - - - - - - - - - - - - - - - - - - - - - - - - - - - - - - - - - - - - - - - - - - - - - - - - - - - - - -
Base Unit Assembly:
Weight approx. 55 lbs.
Width 12 inches
Length 18 inches
Height 10 inches
- - - - - - - - - - - - - - - - - - - - - - - - - - - - - - - - - - - - - - - - - - - - - - - - - - - - - - - - - - -
Feeder Bowl:
- - - - - - - - - - - - - - - - - - - - - - - - - - - - - - - - - - - - - - - - - - - - - - - - - - - - - - - - - - -
Click here for the DTI 5000 PDF Document
- - - - - - - - - - - - - - - - - - - - - - - - - - - - - - - - - - - - - - - - - - - - - - - - - - - - - - - - - - -
Please contact us for more information:
Email: sales@designtoolinc.com
Toll: (800) 627-3674
Phone: (828) 328-6414
1607 Norfolk Place SW
Conover, NC 28613

Play Automatic Pistol Screw Feeder Systems Video