Increase Production 50-60% With DTI Screw Feeders
Featured Product from Design Tool, Inc.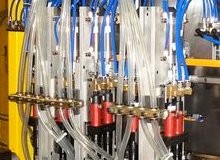 Automatic Screw Feeding & Screw Driving Solutions
Design Tool, Inc. is a North Carolina-based company that provides automatic screw feeding and screw driving solutions to a wide scope of industries such as automotive, electronics, metal, plastics, telecommunications, wood and many others.
Automated fastening and assembly systems are custom designed to your specifications. Screw driving machines are designed to increase production 50-60% without an increase in personnel.
Our automation allows us to custom design componentry such as screwdriver platens, multi-exit feeder bowls, and supply hoppers to be integrated into production assembly lines or stand alone work cell stations.
DTI offers a variety of custom designed fixture components: https://www.designtoolinc.com/fixtured-components/index.php
Contact us for more details and a quote

Play Increase Production 50-60% With DTI Screw Feeders Video