Parts and Service
Service Detail from Despatch - ITW EAE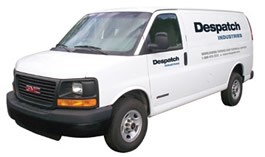 The Parts You Need When You Need Them, for the Lifetime of your Equipment
Our global parts team is standing by, ready to assist you with all of your parts and equipment needs. Give us a call for pricing and availability of replacement parts. We have the knowledge and equipment to help keep your application operating at full capacity.
Service and Support, Global Presence, with Local Expertise
With other thermal equipment providers, service stops after the sale. Not with Despatch. We provide expert technical service, a range of installaiton options and an extensive parts inventory to all of our customers worldwide. And, if that's not enough, we have the capabillity to service some competitor's equipment! At Despatch, we believe in exceeiding customer expectations and going above and beyond what an average equipment manufactuerer will provide. Worldwide service, installation, parts and advice - we have you covered!
Our network of Certified Service Representatives is spread out across the globe to provide technical support and service to Despatch customers worldwide.
Service Help Line Hours: Monday through Friday - 5:00am to 4:30pm CST
Contact the Service Department: USA 1-800-473-7373, Internationally 1-952-469-8230
Contact us via Email: service@despatch.com or parts@despatch.com
ASAP - Advantage Service Assurance Program
With over 105 years of providing world class service, Despatch continues to deliver exceptional products baked by a strong sense of responsibility and drive for long term customer satisfaction. Your partnership with Despatch can offer even higher value through your subsciption to one of Despatch's Advantage Service Assurance Program (ASAP).