57 Series with Silicon Carbide Seals
Featured Product from Deublin Co.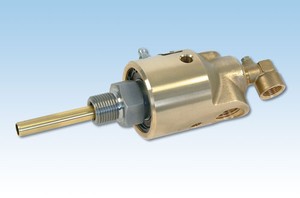 Features:
monoflow and duoflow design
self-supported rotating union
radial housing connection
balanced mechanical seal
keyed rotor seal
easy and quick replacement of sealing components (rotor seal, floating seal)
ball bearings lubricated for life
for poor water quality (E.L.S.)
3 vent holes
forged brass housing
stainless steel rotor (3/8" - 1")
special options: threaded vent holes
Seal Combination - Standard
Carbon Graphite/Silicon Carbide
Seal Combination - E.L.S.
Silicon Carbide/Silicon Carbide for severe conditions (poor water quality)
Operating Data
Maximum Water Pressure 150 psi
Maximum Speed NPT Threads 1500 rpm
Maximum Speed Straight Threads 3500 rpm
Maximum Temperature 200°F >200°F consult DEUBLIN
Please click on the buttons for more information or request a quote today!