DEUBLIN Electrical Slip Rings
Product Announcement from Deublin Co.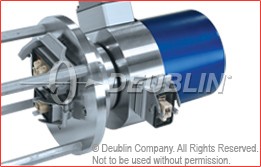 DEUBLIN Electrical Slip Rings utilize next-generation technology for optimal, long-term operation and unrestrained transmission of power.
This integrated system has been optimized with special material configurations that are rated for millions of cycles, which translates into many years of trouble-free operation for unsurpassed performance. This progression of DEUBLIN technology has generated unparalleled lifecycle reliability, which in turn, significantly reduces maintenance costs.
As with all DEUBLIN products, our slip ring system is 100% tested prior to installation in the field, and manufactured using high performance production methods. The long-life slip ring technology will provide consistent, reliable service and maintenance-free performance.
Electrical Slip Ring Brochure PDF
RFQ Slip Ring Information Sheet PDF
For more information, please contact us at (847) 689-8600 or email us at info@deublin.com
---