Dexmet Expanded Foils - Anode & Cathode Materials
Featured Product from Dexmet Corporation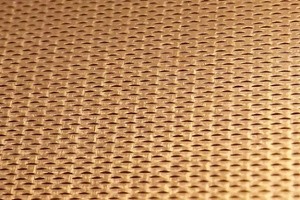 Dexmet Expanded Foils - Anode and Cathode Materials
Dexmet introduces new thinner expanded foils for anode and cathode materials.
Dexmet Corporation adds new line of materials for use in lithium ion applications.
Dexmet develops MicroGrid® and PolyGrid® precision expanded foils and polymers for high-performance applications.
Dexmet has been providing expanded metal foils for primary and secondary battery applications for over thirty (30) years. Over these years, we have tried to advance the expanding process to introduce new and unique materials for the battery industry. These open area foils have worked well in many primary battery applications but have had limited success in lithium ion chemistries. Feedback from industry researchers and battery designers recommended producing thinner materials that would be better suited for lithium ion designs. Dexmet engineers have made great strides in advancing the design of our expanding equipment which has allowed us to produce materials thinner than previously possible. We are now able to offer materials down to 25 micron (.001") in both aluminum and copper at widths up to 305mm (12"). These thinner materials coupled with our ability to produce very small openings in the material, should prove to be the perfect anode and cathode electrode solution for improved overall cell performance.
As an alternative to solid foils, these open area expanded materials will require less binder to adhere the active material to the electrode surface. The reduction in binder will result in better ion and electron flow for better rate capability and quicker recharge cycles. In addition, the volumetric reduction of binder is offset by more active material resulting in better energy density within the cell. Using an open area expanded product also improves the thermal properties of a cell by reducing the internal heat generated during the charge and discharge cycles, which plague so many of the current lithium ion designs today, creating an improvement in the overall life expectancy of the battery.
We believe that these new configurations will provide battery manufacturers the best results when coating active materials and provide optimal cell performance. As with all Dexmet materials, slight changes to the configurations (opening size, open area) can be made if necessary to meet your requirements. We are excited at the opportunity to introduce these new materials and the prospect of taking battery technology to the next performance level.
Dexmet
Dexmet Corporation manufactures precision expanded metals, foils and polymers with exacting mechanical and electrical properties to meet very tight conductivity, weight and dimensional tolerances. The company maintains a continuous commitment to quality control and process improvement, including SPC implementation. Ongoing innovations include our unique, strand annealing furnace, as well as a host of other, highly specialized, proprietary equipment.
Dexmet's solid customer base is predicated upon its reputation as the premier, quality supplier of precision-expanded metal foils. Many of our customers are among the world's most recognized brands. When they need quality expanded material for their end products and applications they come to Dexmet. We welcome you to the family of Dexmet customers.
The Dexmet Quality System is ISO 9001:2008 certified. The company subscribes to the standard's requisite features, including documentation and record-keeping, while it also maintains a flexible stance toward evolving standards and innovative ideas from our customers and employees. Thus, whenever a better way emerges to reduce cost, reduce scrap, improve quality, improve customer service and make it easier for our employees to produce your product with the smallest possible product variation, Dexmet's Quality System is poised to incorporate these benefits.
The Dexmet Quality System is driven by the needs of our customers. We have adopted many suggestions from our customers and will continue to do so. It is this teamwork that makes us better.