Expanded metal foils coated for electrode material
Featured Product from Dexmet Corporation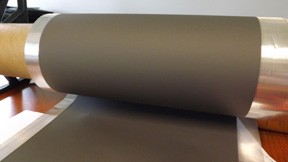 In 2014 Dexmet introduced the 25 micron thick expanded metal current conducting foils for Li-ion battery at The Battery Show. Since then we have provided hundreds of samples to R&D groups and cell developers throughout the world.
Initial coin cell data demonstrated significant enhancement to available capacity and cycle life in Si anode, Lithium anode, and NMC cathode evaluations.
These dramatic enhancements have promted several major battery companies to initiate studies for full multi-layer cells representative of batteries for energy storage and eV applications. If you wish to obtain samples of our expanded metal products and copies of test reports, please contact John Hart at: j.hart@dexmet.com.