Expanded MicroGrid for Automotive Applications
Featured Product from Dexmet Corporation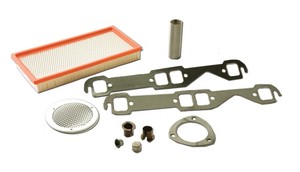 Expanded MicroGrid for Automotive Applications
Dexmet precision expanded metals are used in a host of primary OEM and aftermarket automotive products. Typical applications include: low-cost greaseless bearings, high temperature gaskets, airbags, inlet screen and filtration. Dexmet bronze mesh is used as a lubricating material and support structure in bearings primarily for automotive applications. In addition, these expanded metals are ideal for automotive speaker grills & covers, light covers, protective light mesh and decorative applications. Automotive engineers continue to adapt Dexmet expanded metals and some expanded plastics in innovative ways.
Dexmet expanded metals and foils are the materials of choice in airbag filters. As compared to the typical extruded material or woven material, Dexmet expanded metal saves money by eliminating waste and will not unravel during processing. Dexmet expanded metals and foils are available in a wider range of widths, thicknesses, and open area configurations than any other material type. This combined with the ability to perform custom slitting and edge treatments makes Dexmet the premier supplier for airbag filter materials.
Expanded Material Terminology
Download this valuable guide on the vast selection of configurations Dexmet can provide for you automotive applications.
See why some of the world's most recognizable companies turn to Dexmet when developing applications with expanded materials. learn more
The Dexmet Blog
The latest in engineering and manufacturing news, trends and insights straight from the Dexmet experts.
Dexmet
Dexmet Corporation manufactures precision expanded metals, foils and polymers with exacting mechanical and electrical properties to meet very tight conductivity, weight and dimensional tolerances. The company maintains a continuous commitment to quality control and process improvement, including SPC implementation. Ongoing innovations include our unique, strand annealing furnace, as well as a host of other, highly specialized, proprietary equipment.
Dexmet's solid customer base is predicated upon its reputation as the premier, quality supplier of precision-expanded metal foils. Many of our customers are among the world's most recognized brands. When they need quality expanded material for their end products and applications they come to Dexmet. We welcome you to the family of Dexmet customers.
The Dexmet Quality System is ISO 9001:2008 certified. The company subscribes to the standard's requisite features, including documentation and record-keeping, while it also maintains a flexible stance toward evolving standards and innovative ideas from our customers and employees. Thus, whenever a better way emerges to reduce cost, reduce scrap, improve quality, improve customer service and make it easier for our employees to produce your product with the smallest possible product variation, Dexmet's Quality System is poised to incorporate these benefits.
The Dexmet Quality System is driven by the needs of our customers. We have adopted many suggestions from our customers and will continue to do so. It is this teamwork that makes us better.