Lightning Protection - Wind Energy
Featured Product from Engineered Materials, a subsidiary of PPG Aerospace (Dexmet Corporation)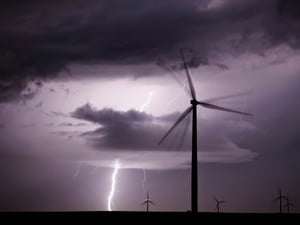 Lightning Protection - Wind Energy
As the requirement for wind turbines to produce more power, wind blade designs are becoming larger to meet these higher output demands. As they become larger,weight becomes an issue and designers are starting to incorporate more carbon fiber into the blade construction. Through the knowledge and history in carbon fiber aerospace applications, Dexmet has been called upon to help determine the correct configurations and materials for lightning protection on these hybrid carbon fiber/composite blades. Configurations are more conductive and configured to withstand multiple strikes and therefore are slightly heavier than materials required for Aerospace.
Expanded Solutions for Engineers with Tough Applications
Some of the world's most recognizable companies turn to Dexmet when developing applications with expanded metal foils and plastics.
Applications
The versatility of Dexmet expanded materials has provided opportunities in many markets and applications. With 70 years of experience, the Dexmet team has built a foundation of application knowledge that no other expanding company can match. Our dedicated staff of highly trained engineers and product managers can provide the technical insight to provide the right expanded solution for your product
Application Specific Solutions
As a testimony to our innovation and experience, our products are implemented into proprietary and commercial applications developed by some of the world's most recognized Fortune 500 companies. When developing applications that require a micro-mesh open area product, developers and engineers turn to Dexmet for the technical experience to shorten the development cycle and provide the best performing, high quality, cost effective products.
Dexmet outperforms the competition in ensuring that our products meet our Customer's expectations for performance and precision monitored by a AS9100 and ISO9100:2008 quality control system to ensure a great product at a great price.
See why some of the world's most recognizable companies turn to Dexmet when developing applications with expanded materials. learn more
The Dexmet Blog
The latest in engineering and manufacturing news, trends and insights straight from the Dexmet experts.
Dexmet
Dexmet Corporation manufactures precision expanded metals, foils and polymers with exacting mechanical and electrical properties to meet very tight conductivity, weight and dimensional tolerances. The company maintains a continuous commitment to quality control and process improvement, including SPC implementation. Ongoing innovations include our unique, strand annealing furnace, as well as a host of other, highly specialized, proprietary equipment.
Dexmet's solid customer base is predicated upon its reputation as the premier, quality supplier of precision-expanded metal foils. Many of our customers are among the world's most recognized brands. When they need quality expanded material for their end products and applications they come to Dexmet. We welcome you to the family of Dexmet customers.
The Dexmet Quality System is ISO 9001:2008 certified. The company subscribes to the standard's requisite features, including documentation and record-keeping, while it also maintains a flexible stance toward evolving standards and innovative ideas from our customers and employees. Thus, whenever a better way emerges to reduce cost, reduce scrap, improve quality, improve customer service and make it easier for our employees to produce your product with the smallest possible product variation, Dexmet's Quality System is poised to incorporate these benefits.
The Dexmet Quality System is driven by the needs of our customers. We have adopted many suggestions from our customers and will continue to do so. It is this teamwork that makes us better.