PolyGrid® Precision Expanded Plastics
Featured Product from Dexmet Corporation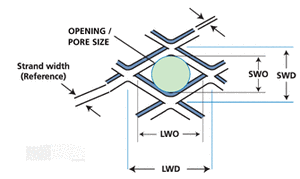 PolyGrid® Precision Expanded Plastics
Dexmet precision expanded plastics offer superior performance and material savings for a range of materials and applications.
PolyGrid® precision-expanded plastics from Dexmet are used in filtration applications requiring membrane support, purification and separation. Other uses encompass the following industries: electronics, aerospace, medical, food packaging, automotive and wherever mesh and perforated plastics with high precision, mechanical and electrical properties are required. Dexmet PolyGrid® is available in most polymers or we can work with your proprietary materials. Dexmet meets Clean Room specifications to Class 10,000.
Plastics regularly produced include:
Fluoroplastics: PTFE, PFA and ECTFE
Polyamides (Thermoplastic): PET, PETP, PBTP
Polysulfones
Polyvinyls
High Temp Plastics: PTFE (PFOA-free), PEEK, Nylons
A range of standard diamond mesh sizes from .020" to 1.2" is available. The number of openings per square inch can vary from 25 to as many as 11,000, with an open area range from 10% to 90%. The variable open area facilitates lamination with a variety of other materials including those which expand, contract and flex. Designing a precision expanded plastic material with unique characteristics is our specialty. Dexmet's extensive manufacturing resources can accommodate many variations for plastic materials in a range of finished thicknesses.
PFOA-Free Material:
Dexmet Corporation introduces PFOA-Free PolyGrid® Expanded Fluoropolymers. PFOA (Perfluorooctanoic Acid), is widely used as a polymerization surfactant in making fluoropolymers including PTFE, PFA and FEP. Dexmet provides PolyGrid® without this harmful additive for medical, filtration and food processing applications that require a PFOA-free expanded material.
PolyGrid's flexibility and its unique properties allows PolyGrid® to be used in a number of applications.
Dexmet Corporation manufactures precision expanded metals, foils and polymers with exacting mechanical and electrical properties to meet very tight conductivity, weight and dimensional tolerances. The company maintains a continuous commitment to quality control and process improvement, including SPC implementation. Ongoing innovations include our unique, strand annealing furnace, as well as a host of other, highly specialized, proprietary equipment.
Dexmet's solid customer base is predicated upon its reputation as the premier, quality supplier of precision-expanded metal foils. Many of our customers are among the world's most recognized brands. When they need quality expanded material for their end products and applications they come to Dexmet. We welcome you to the family of Dexmet customers.
The Dexmet Quality System is ISO 9001:2008 certified. The company subscribes to the standard's requisite features, including documentation and record-keeping, while it also maintains a flexible stance toward evolving standards and innovative ideas from our customers and employees. Thus, whenever a better way emerges to reduce cost, reduce scrap, improve quality, improve customer service and make it easier for our employees to produce your product with the smallest possible product variation, Dexmet's Quality System is poised to incorporate these benefits.
The Dexmet Quality System is driven by the needs of our customers. We have adopted many suggestions from our customers and will continue to do so. It is this teamwork that makes us better.