Value proposition for MicroGrid expanded metals
Featured Product from Dexmet Corporation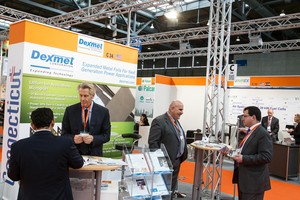 Recently, the team at Dexmet was at the Hannover Messe 2016 Group Exhibit, Hydrogen + Fuel Cells + Batteries held at the Hannover Messe Fairgrounds, in Laatzen, Germany, April 25-29, 2016.
Dexmet was part of the Northeast Group Exhibit sponsored by the Connecticut Department of Economic and Community Development (DECD) and the Northeast Electrochemical Energy Storage Cluster (NEESC).
This year's public forum included a discussion explaining the impact that expanded metals foils have made in sustainable power applications, new cell structures using Microgrid® expanded metal current collectors were studied.
Watch>>> Value Proposition From MicroGrid Expanded Metal Foils
Mr. John Hart of Dexmet explains the benefits of using expanded metal foils in lithium ion applications at Hannover Messe, Germany 2016.
Watch>>>Dexmet - The Leader in Expanded Materials
Dexmet Corporation manufactures precision expanded metals, foils and polymers for power applications needing exact mechanical and electrical properties. Dexmet is joint ISO 9001:2008 and AS9100 certified and is the leader in the manufacturing of foil gauge precision expanded metals and polymers serving a wide range of engineered product applications. Visit Dexmet Corporation for details.