Infrared Thermopile Detectors & Development Tools
Product Announcement from Dexter Research Center, Inc.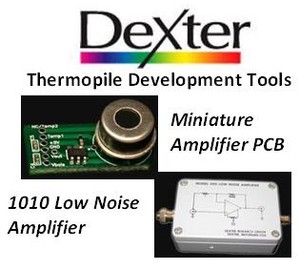 Thermopile Development Tools
Miniature Amplifier PCB -Sized for single channel TO-5 packages and electrically compatible with all Dexter Research Center detectors.
1010 Low Noise Amplifier - A low noise, DC-coupled amplifier is packaged in a rugged, die-cast aluminum case with BNC connectors enabling input and output.
Thermacon Motion Sensors
Concealed Passive Infrared Motion Sensor

Concealed passive infrared (PIR) motion sensor that detects the presence of natural body heat and activates a relay.
Four interchangeable detection patterns are standard with each unit. Units accept a power supply range of 12 to 24 volts AC or DC

There are three different models of Thermacon:

Thermacon T-90 UL Listed - The housing is an Underwriters Laboratories Inc. (UL) 94-HB fire rated ABS plastic, coated with aluminum to protect against radio frequency interference
Thermacon T-80 and S-80 -These units are designed for easy concealed installation in suspended ceilings or on an enclosed metal electrical box is acceptable for use in air handling areas.
Integrated Temperature Measurement Solutions
Infrared Temperature Module (Future product) - makes non-contact infrared temperature measurements and delivers a radiometrically-calibrated output. Great for consumer appliances, copiers and printers, industrial and residential HVAC, human presence detections, SARS screening, Tympanic ear thermometer and industrial process control.

Email us for questions and specific required applications
About Dexter Research - The World Leader in Infrared Thermopile Detectors:
Dexter Research Center, Inc. was founded by Robert Toth, Ph.D in 1977. A leading thin film and materials expert, Bob believed then and now that:
No other infrared device outperforms a thermopile as an affordable detector, and
There is no substitute for collaboration as a means to optimize infrared detector performance, packaging, reliability and durability to surpass the current benchmarks and beyond our customer expectations.
From either the perspective of systems performance or systems cost, customized applications of Dexter Research's thermopile technology continue to be the preferred solutions to today's burgeoning infrared detector market.
However, we know that we cannot rest on our laurels and reputation. As a result, Dexter Research has undertaken an aggressive organization development program to support our customers.
Today, Dexter Research offers 31 core thermopile products, more than all global competitors combined, each 100% tested for industry-leading quality. We now provide our customers with a choice from over 800 thermopile configurations, and we have new thermopile detectors coming on-line and new customers using our products around the world.
---