Miniature Amplifier with PCB temp sensor
Product Announcement from Dexter Research Center, Inc.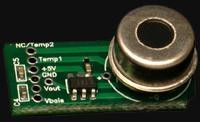 Dexter Research - Available in three amplifier gains: 300, 500 and 1,000, this PCB includes a LM20 temperature sensor and 1.25V voltage reference. Although sized for single channel TO-5 packages, this amplifier is electrically compatible with all Dexter Research Center detectors, providing convenient buffering and pre-amplification of thermopile signal. The amplifier circuit board is impressively small (0.35" x 0.85") and is designed around the AD8628 amplifier with ultra low offset (<1μV), low drift (<0.005μV/°C), and low bias current (100pA). The Mini Amp will operate on a 2.7V to 5.5V single supply, is chopper stabilized and has greatly reduced digital switching noise (0.5μVp-p from 0Hz to 10Hz, input referred).
Applications:
Facilitates fast R&D startup time that can be integrated into your prototypes or final system design.
Datasheet:
For more detailed information see the datasheet Mini Amp PCB.
---