Motion/Presence Sensors...Request to Exit
Featured Product from Dexter Research Center, Inc.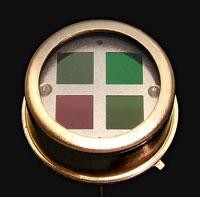 Thermacon - Request fo Exit Sensor, Concealted Passive Infrared Motion Sensor.
Dexter Research Center - A concealed and totally silent passive infrared (PIR) motion sensor that detects the presence of natural body heat and activates a relay. Relay activiation begins when the detection area is entered and remains on the for the duration of the preset relay timing. The unit is designed for concealed and easy installation in suspended ceilings. Four interchangeable detection patterns are standard with each unit. Units accept a power supply of 12 to 24 volts AC or DC.
Leader in Infrared Thermopile Detectors:
Dexter Research Center, Inc. was founded by Robert Toth, Ph.D in 1977. A leading thin film and materials expert, Bob believed then and now that:
No other infrared device outperforms a thermopile as an affordable detector, and
There is no substitute for collaboration as a means to optimize infrared detector performance, packaging, reliability and durability to surpass the current benchmarks and beyond our customer expectations.
From either the perspective of systems performance or systems cost, customized applications of Dexter Research's thermopile technology continue to be the preferred solutions to today's burgeoning infrared detector market.
However, we know that we cannot rest on our laurels and reputation. As a result, Dexter Research has undertaken an aggressive organization development program to support our customers.
Today, Dexter Research offers 31 core thermopile products, more than all global competitors combined, each 100% tested for industry-leading quality. We now provide our customers with a choice from over 800 thermopile configurations, and we have new thermopile detectors coming on-line and new customers using our products around the world.
Extensive line of Dexter Products includes: